Cradley Church wins Good Guardianship Award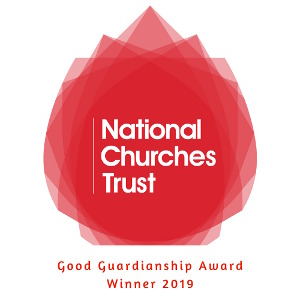 Now that our major repairs project is complete we need to focus on ongoing maintenance, and have put in place a detailed planning and monitoring programme supported by a database devised by Sue Bailey and detailed photographs taken by Peter Warner.
The Good Guardianship Awards, introduced in 2019 and run by the National Churches Trust in partnership with The Pilgrim Trust, celebrate excellence in maintenance planning, helping church buildings to become more sustainable. Good maintenance practice, including annual maintenance plans, regular inspections and small preventative repairs stop many minor problems from escalating into large, expensive repairs that can threaten the future of a building.
We are delighted that Cradley church has been chosen as the first winner of this prestigious prize. At the awards presentation at the Mercers' Hall in the City of London, Georgina Nayler, Director of the Pilgrim Trust said "I am very impressed by the commitment and professionalism of this small church congregation. They have shown real initiative and implemented what they have learnt. The use of photography is a really easy, yet really useful tool in monitoring the condition of the building.".
The church received a prize of £5,000 towards the ongoing care of our place of worship.