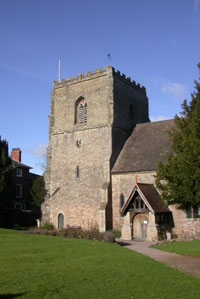 eNews
To be sure that you do not miss out on any news or events why not sign up to get important information from Cradley Church by email?
NEWS SHEET
The parish news sheet is produced every week and contains details of forth-coming services, events and meetings along with other notices that may be of interest to those who live in the parish or wider benefice.
A digital (.pdf) version of the parish news sheet (also known as the 'pew sheet') of the current news sheet is available here.
A SEPTEMBER LETTER FROM THE RECTOR
WATERS OF LIFE, RIVERS OF SILVER

The prolonged hot spell in July and early August led in many places to the threat of water rationing, and to a genuine fear of the results of a time of prolonged drought- a situation less familiar in this country more recently, with the run we've had until now of wet and dreary summers. One result of the weeks of unbroken sunshine and high temperatures was that some of this year's harvesting was brought forward. That justifies us, then, in writing about Harvest Thanksgiving a bit earlier than we might have done - though not altogether too early, since Mathon Church's Harvest Thanksgiving is scheduled for the evening of the last Sunday in September (6.00 p.m., Sunday 30 September. Cradley Church follows on Sunday 7 October at 10.30; Storridge, with a Harvest Supper in the Village Hall afterwards, at 6.00 p.m. that evening).

Traditionally at Harvest Festival we celebrate and give thanks for our own harvest, but also for the harvest of the whole earth. At the same time we look at our responsibility to share the good gifts of the Creation with those in need, both locally and more widely, and at our responsibility to care for the earth and for the environment - very much part of the challenge of modern farming and agriculture. Two 'harvest charities' are being highlighted within our parishes during these weeks, one local (the Ledbury Food Bank), one global (the international development charity 'Water Aid').

It was sobering to read recently that half the population of this country have savings of less than £100, and that half of those registered as 'homeless' are in that predicament not because they are out of work, but because the work they do pays too little for them to afford the insanely escalating costs of accommodation. We're thinking there not just of those who are 'on the streets', but also those families and others who are without a permanent place to live- so in Bed and Breakfast and other temporary accommodation. Not surprising, then, that the call on the country's Food Banks, to help tide people over in times of crisis, is ever-increasing. Support for the Food Bank in Ledbury, which also serves our villages, is one of the two charities we are highlighting again this Harvest time. There is of course a permanent station at Cradley Church for people to leave contributions for the Food Bank, but gifts of tinned and otherwise preserved foodstuffs brought to the churches in the run-up to Harvest Thanksgiving, or brought to be offered at the services themselves, will again go there, whilst some of the fresh produce (for example, that brought to Mathon) will again be auctioned after the service to raise money to the same end.

A Cradley, meanwhile, looking at the needs of the wider world, we encourage you to help us build a River of Silver (5p, 10p, 20p, 50p and £1 coins) around the church at the Harvest Family Service on Sunday 7 October, symbolic of the work of Water Aid, bringing clean, safe water to many of the world's poorest communities. All life on earth depends of course on water, and clean, safe water is essential to the health and strength needed to build self-sustaining communities in the world's poorest places. We have before highlighted the work of this widely respected development charity, and look forward with your help to being able again to make a sizeable donation to their funds.


Your Rector,
Robert Ward