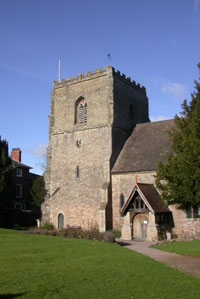 eNews
To be sure that you do not miss out on any news or events why not sign up to get important information from Cradley Church by email?
NEWS SHEET
The parish news sheet is produced every week and contains details of forth-coming services, events and meetings along with other notices that may be of interest to those who live in the parish or wider benefice.
A digital (.pdf) version of the parish news sheet (also known as the 'pew sheet') of the current news sheet is available here.
A JUNE LETTER FROM THE RECTOR
MIDSUMMER

Given the long, slow start to the year, and that we have waited till May for the first really warm spells, it seems a bit hard that with June we reach Midsummer, and the longest day. Already we are at the furthest point, a full six months, from the festivities of Christmas, and at the midsummer turning point of the year. Perhaps we should make the most of opportunities now to get out and celebrate!

There's sometimes some confusion over the date of Midsummer Day. 21 June is celebrated as the longest day: 24 June as Midsummer Day. 24 June is also in the church's calendar the Feast of St John the Baptist, Mathon's patron saint, which in the Middle Ages would probably have been celebrated with great festivities and celebrations, and perhaps with a fair or some such event. The City of Florence also has St John the Baptist as its patron saint, perhaps because of the ancient, octagonal Baptistry, decked in green and white marble, which is the earliest part of the complex of buildings around Florence's famous cathedral. The Feast of St. John the Baptist there is celebrated with fireworks over the River Arno.

June begins with a Treasure Hunt (on foot) for both adults and children, on Saturday 2 June, starting with a Ploughman's Lunch in the church at 1.00 p.m. Contact Sally Pugh (01886 880155) or Karen Seymour (01684 541943) for details and for tickets. On Tuesday 23 June in the evening Storridge Church hosts 'Poems for a Midsummer Eve', an evening of poetry from 7.30 p.m. till about 9.00 p.m., with drinks and nibbles in the interval, which we hope we can enjoy outside. The evening is free of charge, but with donations welcome in aid of Storridge Church.

The month ends with the weekend of Cradley's Village Fete, on Saturday 30 June, in the gounds of thr Church and Village Hall: another opportunity for outdoor festivities, making the most of the summer.

Whilst Mathon isn't exactly Florence, perhaps a Mathon fireworks and/or bonfire party on the evening of Saturday 23 or of Sunday 24 would not be entirely inappropriate to help us celebrate here.


Your Rector,
Robert Ward